Large Deflection Working Group
Please contact Markus Ritter for access to data depository.
Objectives
Apply nonlinear aeroelastic simulation codes for the prediction of:

Static equilibrium points (static coupling) with large deflections
Dynamic stability (flutter) about states of large deflection

Investigate nonlinear aeroelastic phenomena induced by large deflections:

Variation of structural characteristics (e. g. variation of mode shapes and frequencies)
Variation of static and dynamic loads (aerodynamic, inertia)
LCO onset (dynamic pressure, AoA), mechanisms, and amplitudes
---
Configuration: Technion Pazy Wing
Benchmark for static and dynamic (flutter) aeroelasticity of a very flexible wing (up to 50% elastic deflection w. r. t. semi-span)
Experimental data for validation of computational models
Configuration:
Chord - 100 mm, span - 550 mm
Main spar: 550 × 60 × 2.5 mm, at the center-chord
Airfoil - NACA0018
Wing-tip rod for attaching weights
Materials:
Main spar - Aluminum 7075
Chassis - Nylon, PA12, 3D-printed
Cover - Foil (Oralight)
AePW-3 / LDWG benefits:
Simple, low-cost design
Easy generation of simulation models
Background
Large elastic deflections are inherent in particular aircraft (HALEs, Sailplanes, modern jet transports) as the result of aerodynamic optimization

high aspect ratio to reduce induced drag → high slenderness

Bringing more flexibility into jet transport aircraft wings is even a future design goal of aircraft industry
Future aeroelastic analysis and design codes must account for aerodynamic (e. g. large rotation of surfaces and forces) and geometric (changes in mass and stiffness) nonlinearities
Standard - i.e. linear - analysis and design approaches are not suitable for highly flexible aircraft structures!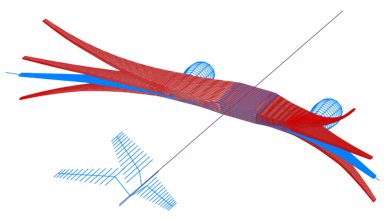 Existing Data
Sumulation Models:

CAD

FEM

(Ansys, Nastran, w/ and w/o skin, calibrated with GVT data)
Beam models (cross-section data)

Experimental data:

GVT data of wind tunnel model
Static aeroelastic data (0-55 m/s)
---
Computational Analysis
Nonlinear static coupling simulations of the Pazy Wing for V
0
and AoA combinations
Beam structural model (left) and full FEM (right)
Potential aerodynamic model (flat plate) for both plots
Computational and Experimental Plans
Stability analysis about states of large deflections
Gain experience with novel aeroelastic measurement techniques (optical fibers and motion tracking camera system)
Consider aerodynamic nonlinearities (viscous effects, stall) by high-fidelity aerodynamic methods and search for LCO regions
V-g plots of the Pazy Wing for V0 sweeps and two AoAs (each velocity corresponds to a state of static structural deflection and aeroelastic equilibrium)
1st Flutter Instability (43 m/s, AoA = 5°): 1st Torsion + 2nd OOP Bending
2nd Flutter Instability (71 m/s, AoA = 5°): 1st Torsion + 1st OOP Bending