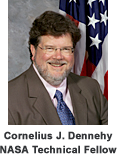 These training modules were compiled by the GN&C Technical Discipline Team (TDT). The GN&C discipline focuses on determining, guiding, and controlling the dynamic state of a vehicle to enable robotic and human space exploration.
The GN&C community also offers regular webcasts led by subject matter experts, held the third Wednesday of every other month at 2 pm Eastern. If you are interested in viewing the session abstracts or attending the next webcast, please register in advance in the NASA GN&C Community of Practice. Visit the GN&C Webcast Series page to view previously held webcasts.
Some content on this page might be saved in an alternative format. To view these files, download the following free software.
Guidance Navigation & Control